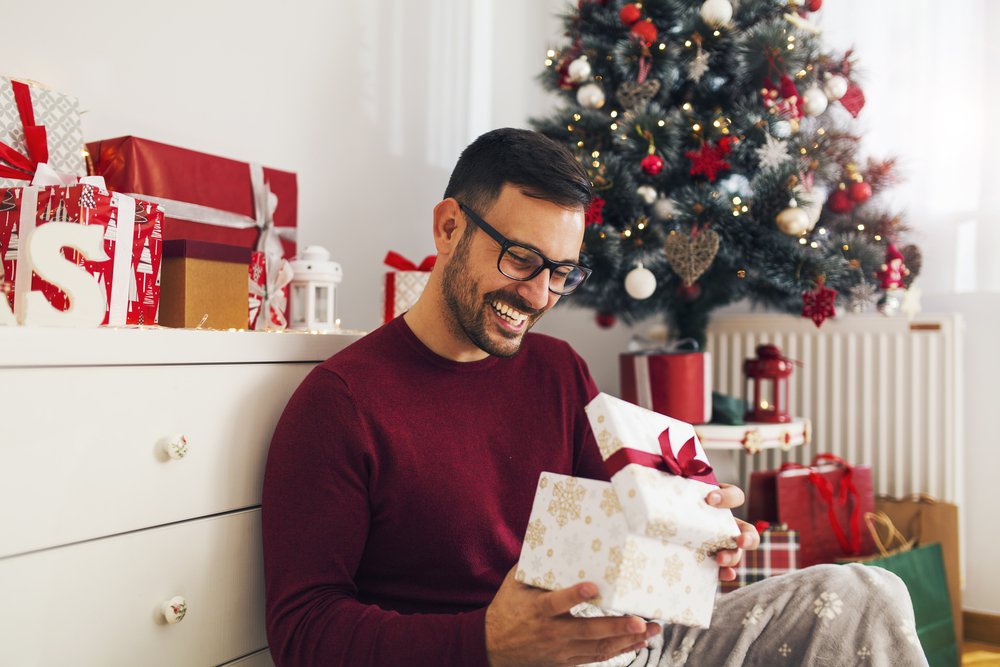 The holidays are an exciting time of festive celebrations and thoughtful gifts. However, the holidays are a time that can be triggering for people in early recovery. Many Christmas parties will often have alcohol and other substances present that someone in recovery is actively trying to avoid. Some people in recovery may choose not to partake in celebrations, but this can also leave them feeling lonely if they don't have alternative plans with a friend who supports their recovery journey. Recovering from addiction is a long, challenging path that requires courage and dedication, so it is important to let your loved one know they are not going through it alone.
Giving your recovering loved one a gift this holiday season is a great way to show your love and make them feel supported on their journey toward long-term sobriety. If you have a loved one in recovery, you may be wondering what kind of gift you can get them that will not only be conducive to a successful recovery but shows them that you're proud of the progress they've made. Luckily, we've made a list of ten perfect gifts you can give to your recovering loved one to show them how much they mean to you.
1. A Self-Care Gift Basket

A self-care gift basket supports the core goals of recovery and encourages your loved one to treat themselves with kindness and care. Fill the basket with items such as bath bombs, body lotions, face masks, manicure kits, and more that will help your loved one relax and de-stress. You can also add in some comfy new loungewear or pajamas to encourage them to take some time out for themselves. Actively focusing on yourself and learning to enjoy alone time is an essential goal of recovery, which makes a self-care basket the perfect gift for your loved one as they embark on their recovery journey.

2. A Journal

This Christmas, gift your loved one with a nice journal and quality pens that they can write in on their own terms. Writing down feelings and experiences can be incredibly helpful during recovery, as it helps individuals to process emotions and develop healthy coping strategies when needed. In addition to writing down feelings, they could practice mindfulness techniques like listing small things they're grateful for each day.

3. A Healthy Cookbook

Maintaining a healthy lifestyle is recommended for those in recovery as it can help to reduce stress and cravings. Adding healthy meals to their daily routine will also help them have more energy to invest in other aspects of recovery, such as attending meetings or therapy sessions. Help your loved one maintain an overall healthy lifestyle by gifting them with a cookbook filled with delicious recipes that are light, nutritious, and easy to make. There are lots of cookbooks out there specifically designed to provide nourishing and flavorful meals without the addition of any unhealthy ingredients. This is a great gift for anyone who's trying to take care of their body and mind during recovery.

4. A Fitness Tracker

Exercise is known to help people manage stress, improve mood, and strengthen their commitment to recovery. A fitness tracker is a great way to encourage your loved one to stay on top of their physical health and track their progress over time. This holiday season, give the gift of health by investing in a quality fitness tracker that they can use as motivation to build healthy lifestyle habits.

5. A Hobby Kit

Finding a positive outlet for creative expression is an important part of recovery. Having hobbies to turn to can help individuals cope with difficult feelings and stay away from any cravings they may have. Give your recovering loved one the gift of exploring their creativity with a hobby kit. You could fill it with items like art supplies, books on photography, model-making kits, or anything else that they would enjoy. This is one of the most thoughtful gifts you can give someone in recovery, as it encourages them to stay focused on their journey and find joy in activities that don't involve substance use.

6. A Gift Card Or Subscription

If you're not sure what to get your loved one for Christmas, a gift card or subscription is always a great option. There are plenty of stores and websites that offer gift cards and subscriptions for activities such as yoga classes, meditation apps, online therapy sessions, cooking classes, and more. This kind of gift will allow your loved one to explore healthy activities that will support their recovery journey.

7. A Self-Help Book

As your loved one embarks on the recovery journey, they may need some extra guidance and support along the way. A self-help book can be a great source of encouragement and comfort that they can turn to during challenging times. There are many books available on sobriety and healing, so you're sure to find something that speaks to your loved one's individual needs. Reading about others who have gone through similar struggles can help them feel less alone and show them they too are capable of a successful recovery.

8. Gadgets or Knick Knacks

One of the leading causes of relapse is boredom, as it can increase the temptation to use substances. Getting your loved one an interactive gadget they can keep on hand can provide an outlet for their boredom. Many people in recovery enjoy playing with little things like fidget spinners or small Rubix cubes to keep their hands and minds occupied. On the other hand, if they're more of a knickknack person, then you can get them something small and meaningful like a wall hanging or an inspirational poster. This can serve as an encouragement to stay positive throughout their recovery journey.

9. A Shared Experience

Recovery can be an isolating process, so your loved one needs to have someone to lean on and turn to in times of need. Gifting them with a shared experience is a great way to show that you're there for them through thick and thin. You can plan something simple, like going out for dinner or seeing a movie, or you could go a bit further and plan a weekend camping trip or take a road trip to a city you've never visited.

10. A Spa Day or Massage Session

One of the most important aspects of recovery is learning to take care of oneself and nurture physical, mental, and emotional well-being. A spa day is a perfect way to help your loved one relax and recharge during their recovery journey. Show your support by giving them an experience that helps them relieve stress and clear their mind.
With these thoughtful gifts that promote self-care and well-being, you can give your loved one something special to let them know you're there for them as they navigate recovery. No matter what gift you choose, the most important thing is that your loved one knows they are cared for during this difficult time.
At Gateway Rehab, we understand how challenging the holidays can be. If you or a loved one are struggling this season, do not hesitate to reach out for help. Gateway Rehab is dedicated to helping individuals reach a sustainable recovery through a variety of services and treatment methods. Our specialists will create a unique treatment plan that fits your needs and goals. Schedule an appointment today to reach your recovery goals.
At Gateway Rehab, our priority is to guide patients toward a life of sustained recovery. Our team recognizes that not every patient shares the same path to sobriety, and that is why we customize treatment options that address each individual's personal needs and goals. If you or a loved one are currently struggling with addiction, we are here to help. Schedule your first appointment with one of our recovery centers today or call 1-800-472-1177 for more information.